I love wood. I love its beautiful colors, its various textures, and I particularly love wood with dramatic variations in grain patterns. I grew up in a home full of antiques, most of which were built in the American colonies, and I loved their graceful lines and curves, the beauty of their wood, the patina of their well-rubbed finishes, and the softly reflected light from their surfaces.
Turning bowls and platters on my wood lathe brings life to my love of wood. Imagine the pleasure I receive from mounting a piece of timber on the lathe and turning it into a form with flowing curves, beautiful color and figure, a satin finish, and an alluring feel. I particularly love turning large platters and bowls, which, like the antiques I grew up with, will become heirlooms enjoyed by many generations to come.
Tulip Bowl, Ray Key Collaboration,
140mm diameter X 90mm deep, Yew
Tom Wirsing was born in Roanoke, Virginia, in the Shenandoah Valley, an historic center of American furniture building and woodturning. Tom's dad was an expert on American period furniture and had a well-equipped workshop that included a lathe. Tom began turning wood as a young boy. After graduating from Roanoke College with a degree in Physics, Tom began traveling extensively. He lived and worked in Europe, Asia, and nine US States. The lathe in his dad's workshop became a distant memory.
About 30 years ago Tom found himself working for the Hewlett-Packard Company in Chicago and living in a house with a spacious basement. He bought a lathe and began turning wood again. At first, he made mostly furniture but, almost by chance, he attended a demonstration by Richard Raffan, a well-known Australian woodturner. Richard took a rough piece of American black cherry timber and turned it into a wonderful bowl. Tom was hooked.
Thus began Tom's interest in creating art pieces on the lathe. He now turns primarily platters and bowls from a variety of woods. His favorite wood is figured maple.
Tom is a member of the American Association of Woodturners (AAW), a non-profit organization of woodturners that has 15,000 members worldwide. Tom served two terms as president of the AAW. He also served two terms as president of the Front Range Woodturners in Denver. For more information on the AAW visit www.woodturner.org.
Tom has demonstrated at the AAW Symposium, the Utah Woodturning Symposium, the Dakota Woodturning Symposium, the Rocky Mountain Woodturning Symposium, Turnfest in Australia, as well as many AAW chapters across the USA and Canada.
In addition to turning wood, Tom enjoys building furniture. He has built tables, beds, chests of drawers, cabinets, and a variety of other furniture.
Tom is an avid traveler. He has visited all 50 US states, more than 80 countries, and all seven of the world's continents.
Tom resides with his wife Melinda on a ranch in north Boulder County, in the foothills of the Colorado Rocky Mountains, where he grazes Angus cattle, builds furniture, and turns wood.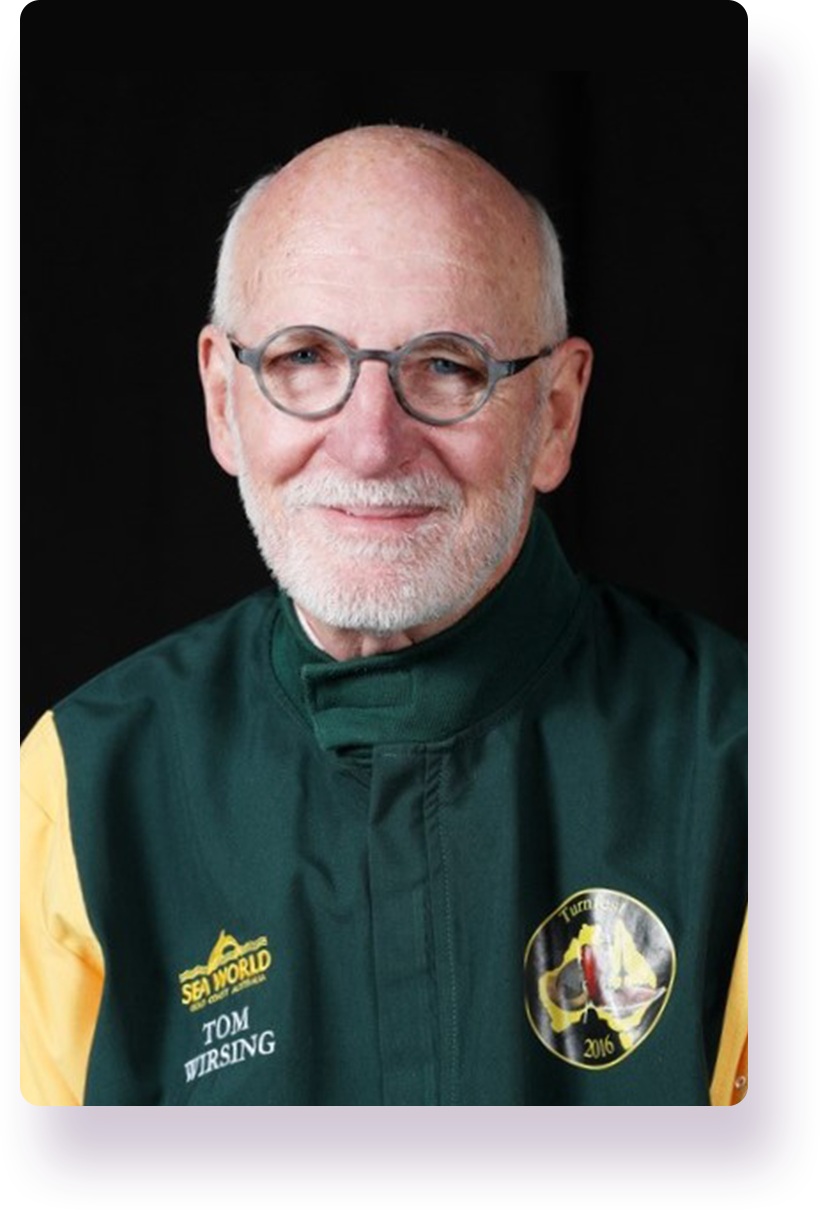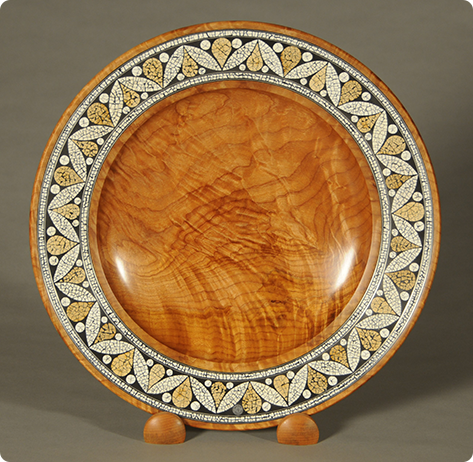 Avoova Platter
450mm diameter
Acer Macrophyllum
Ostrich Shell Inlay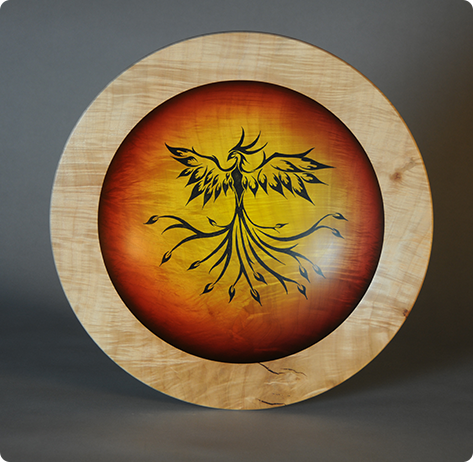 Phoenix Rising
445mm diameter
Acer Macrophyllum
India Ink and Metal Complex Dyes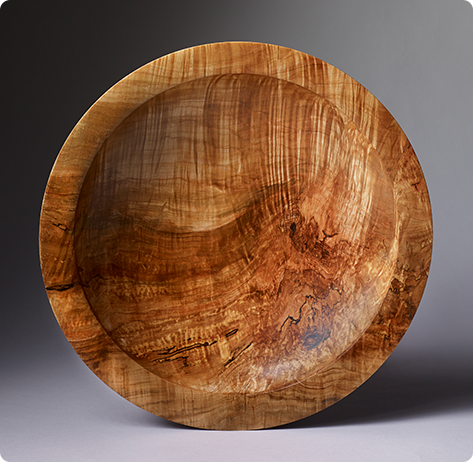 Stormy Sea
406mm diameter X 83mm deep
Acer Macrophyllum